Curv-O-Mark measuring tools by Jackson Safety have been relied on by pipe fitters and pipe welders around the world for many years. Curv-O-Mark has earned a reputation for high quality and provides the necessary precision for numerous welding tasks.
Curv-O-Mark Radius Markers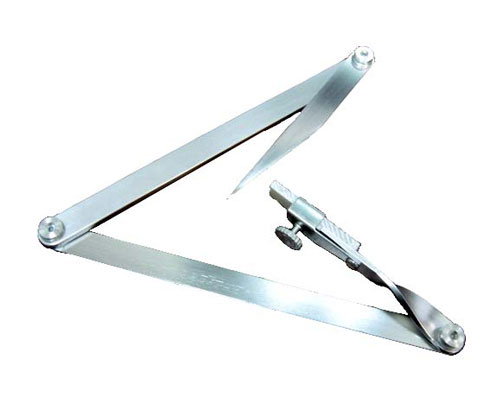 Made with anodized rust-proof aluminum for lasting protection. Arms are precisely aligned with spring tension joints to guarantee accuracy and rigidity. Holder accommodates flat or round soapstone and pencils
Folding type design. Mini, small, and standard models will fit conveniently in a shirt pocket.
Curv-O-Mark Contour Marker
This is a compact and timesaving tool that can be used to layout pipe and structural steel joints. Laterals at any angle, tees, wyes, crosses, elbows – any type or size of a joint can be quickly and precisely laid out. No more complicated mathematical formulas, no more cut and try, and no more needless material waste. The #1 Contour Marker consists of an X-shaped frame, calibrated protractor, and a triple-jointed marketing arm and holder. The holder accepts a soapstone crayon, felt pen, or pencil. The frame folds into a compact tool that fits into a pocket or tool kit, and it can be used upside down or right side up. The protractor is calibrated on both sides – one in degrees and one in the rise-inches-per foot.
Curv-O-Mark Circle-Ellipse Projector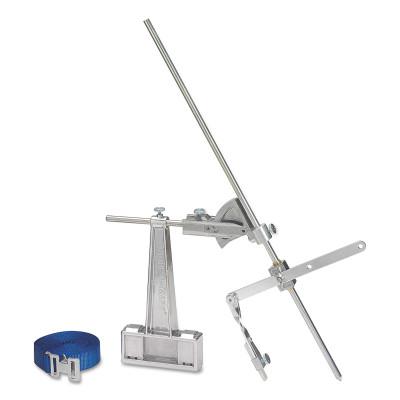 Perfect circles, ellipses, or oblong circles can now be easily made on any irregular flat or round surface. The projector features a protractor with sliding rods and an adjustable lever lock. A strong 20-pound pull magnetic base holds the projector in position during layout. A durable web strap holds the unit securely on a non-magnetic surface and can be used on either side of the vertical column.