Product Description
Bosch PFS 2000 Paint spray system.
Painting has never been so easy! Applying wall paints, metal paints and wood paints is straightforward with the PFS 2000 paint spray system from Bosch. Forget paintbrushes and paint rollers! Quickly and effortlessly spray all types of wood and wall paints onto the desired surface – with no splodges, no paint spatters and no drips. The precise, adjustable paint jet enables you to work cleanly and stress-free. Whether you want to paint, lacquer or oil – your project will be done quickly using the PFS 2000 paint spray system.
---
Key product features:
ALLPaint Technology: easy spraying of all types of paint
Convenient paint flow adjustment thanks to EasySelect rotary switch
Very compact housing with shoulder strap for flexible, comfortable use
---
Functions
Portable
SprayControl Technology
---
You'll love your new painting project!
Painting jobs are usually a hassle and very time-consuming. For precisely this reason, Bosch is now providing a practical and functional solution in the form of the PFS 2000. Work more quickly and cleanly, and achieve professional results! The PFS 2000 paint spray system enables even inexperienced DIYers to tackle any project – without the need for paintbrushes or paint rollers and without any stress. This handy tool applies wall paints, lacquers, glazes and oils evenly and cleanly to various surfaces. From a new wall paint in the bedroom through to a protective glaze for the garden shed – anything is possible. This paint spray system is very easy both to handle and to clean. You can concentrate fully on your project and quickly achieve brilliant results!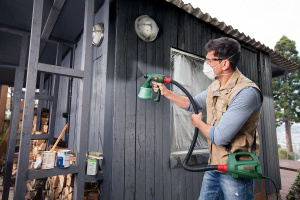 ---
Painting like this is fun!
Spray walls and ceilings incredibly quickly, apply a new protective glaze coating to your garden shed, stain and oil your decking boards, or treat your garden furniture to a different coat of paint for the coming summer. Now there's nothing stopping you decorating in your own four walls or sprucing up a chest of drawers. Even radiators or old bicycle frames are given a makeover in no time with this paint spray system. What's more, you also save a lot of time because you no longer have to schedule half a day to apply the protective glaze coating to a privacy fence. The PFS 2000 is suitable for many applications. Enjoy working with them!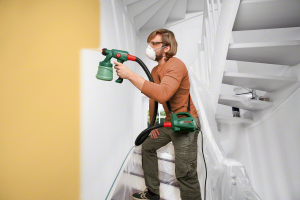 ---
Easy operation for a clean job
Easy handling, an even paint application and a clean result: The PFS 2000 paint spray system from Bosch uses a stream of air to apply the paint to the surface. There is no need for tedious, time-consuming and unclean work with a paint roller or paintbrush. The tool's ease of use means you can tackle practically any painting project at home. It doesn't matter what surface you are spraying because applying paint is incredibly easy with the PFS 2000, regardless of whether you are spraying a room with paint or applying lacquers to wood or metal. Never before have you achieved such a beautiful, even distribution of wall paints, lacquers or glazes so easily!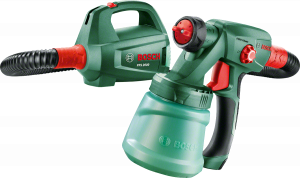 ---
Perfect paint application – as if done by a professional
You can apply paint evenly and cleanly with the PFS 2000 even if you do not have much previous DIY experience. The three-stage adjustable paint nozzle enables you to precisely adapt the spray jet, while the continuously variable paint flow control enables you to apply paint perfectly to any surface. Another advantage is how easy the tool is to clean. It can be done in only a few moves.