Product Description
Bosch PFS 5000 E Paint Spray System | 0603207200.
Goodbye brushes – fast and even coats on textured surfaces and edges.
Power, speed, and finesse for beautifully even results on medium to large projects.
Pragmatic painting – conquer medium to large indoor and outdoor projects quickly with the PFS 3000-2. Its adjustable 2-stage 650 W motor delivers optimal results at 2 m²/min. Refills are rarely necessary with the 1,000-ml paint container that lasts the duration of most renovations and decorations around the house. Enjoy spraying finely atomized paint, glaze, or varnish in perfect coats, even on difficult wooden structures, in tight and remote spaces, and overhead. Move freely thanks to a convenient shoulder strap that makes the spray system easy to carry for great manoeuvrability during use.
Paint difficult surfaces with ease in fast, even coats: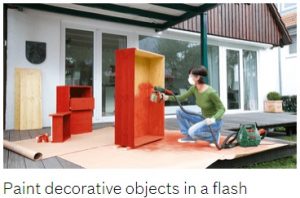 Functions and Advantages of PFS 3000-2:
One easy tool for any type of paint.
The ALLPaint System from Bosch enables hassle-free work, without changing the spray gun, on wood and wall paints with a 0%-10% dilution. Enjoy various nozzles similar to the paint spray systems of professional painters. Simply rinse the system briefly and replace the nozzle.
No more brushing!
ConstantFeed ensures a consistent supply of paint in every position – even overhead or close to the floor. It allows for reaching the most remote places effortlessly, ensuring fast, optimum results.
Fast refilling of paint and easy cleaning.
SDS is an accessories mounting system for quick opening and dismounting of paint containers to allow fast refills and ensure easy cleaning, for efficient work and speedy results.
Technical Data:
Power input: 650 W
Delivery volume: 300 ml/min
Paint application: 2 m² in 1 min
Container volume: 1.000 ml
Machine weight: 2,8 kg
Hose length: 2,0 m
Noise/vibration information:
Vibration emission value ah: 2,5 m/s²
Uncertainty K: 1,5 m/s²
The A-rated noise level of the power tool is typically as follows: Sound pressure level80dB(A); Sound power leveldB(A). Uncertainty K=3dB. Measured values determined in accordance with EN 60745 Vibration total values (vector sum of three directions).
Complete With:
Nozzle for lacquers and glazes (grey)
Nozzle for wall paint (white)
Paint filter
Cleaning brush
Carrying strap
1000 ml paint tank with lid | 1 600 A00 1GG