Description
Dry Cut Diamond Core Drill
For plumbers, electricians or general contractors needing to
drill a hole quickly and cleanly in brickwork for an installation.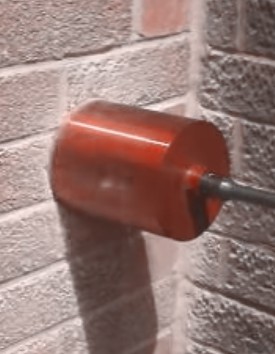 Core diameter: Ø78mm
Depth: 170mm
Adaptor thread: M16
Main use: Brickwork
Application:
The dry cut diamond core drill is designed to be used without water to drill
into:
Brickwork
Roof tiles
Slate
Stone
Paving
It allows the user to drill neat and clean holes quickly without the setup an cleanup time associated with using a water-cooled drilling jig.
INFORMATION:
Have a look at the different adaptors under the EXTRA INFO tab and the complete
range under the ACCESSORIES tab.
IMPORTANT:
Not for reinforced drilling! Use a wall scanner to detect reinforcing, water
pipes or electrical conduit.