Description
Ammo Storage Box for rifle rounds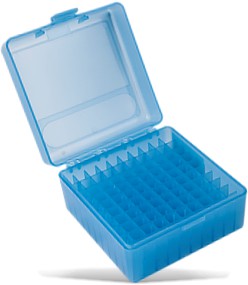 The Tork Craft ammo cases are the perfect ammo carrier for the rifle shot who
wants to spend hours at the shooting range. Perfect for storing your reloads. They
have an easy to grip, scuff-resistant textured surface and are stackable. The latch
and mechanical hinge are well-made to last. Space is allowed on the lid to stick
your load labels and notes. The box is transparent blue and the contents can be
easily identified.
Made of indestructible polypropylene plastic. A durable product that will not
warp or chip.
Calibers that fit in:
| | | | |
| --- | --- | --- | --- |
| 17 Fireball | 17 / 221 / 223 Rem. | 204 Ruger | 222 Rem. Mag. |
| 223 Rem. HP | 300 Sherwood | 6mm-223 Rem | Max. OAL= 2.65′ |