Description
For: Olfa cutter model: 
TS-1

Cat no: TSB-1
Qty: 5 /Pack
---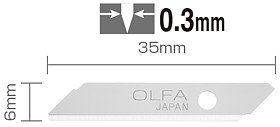 Top Sheet Cutter replacement blade fits the OLFA Top Sheet Cutter. Ideal for
cutting coupons, printed articles, and other tasks that require only a single,
top sheet to be cut and the material beneath to be preserved.
Cuts paper,
newsprint, cardstock, thin films, plastic sheeting, tape and more. Made from
high quality carbon tool steel. 5 blades per pack. 
Good for:  Cutting coupons, printed articles, rolled
sheets, wrapping and more. (TSB-1)
5 spare blades specially designed for the OLFA top sheet cutter "TS-1" in a plastic case. Packed in a plastic bag.