Description
30mm – 200mm Dual Blade Adjustable Circle Cutter
The dual blade design on this adjustable circle cutter gives you clean holes
with less vibration. The circle cutter allows you to cut any circle size between
30 mm and 200 mm! The
cutter includes a plain brad point drill, 4mm hex key wrench, 6mm drill
bit and 2 cutting blades. For use with any drill press or drill stand.
Dual blade design for less vibration and faster, cleaner cuts
Cutter includes plain brad point drill, 4mm hex key wrench, 6mm
drill bit and 2 cutting blades
Drill bit size: 6mm with 118° point
Graduations: Metric
Shank size: 9.5mm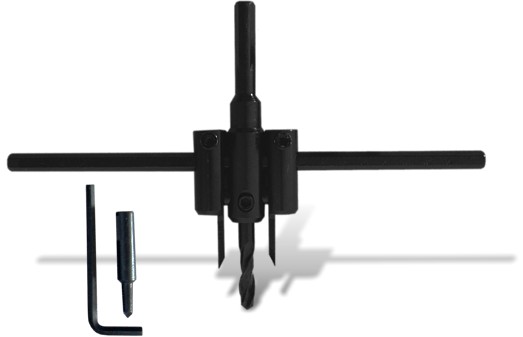 Warning:
For use with a Drill Press or Drill Stand