Description

57 Piece ¼ inch drive Deep Sockets Tray Set

---
F1.BT64 14 mm – 32 mm Sockets in a tray set (57 pieces)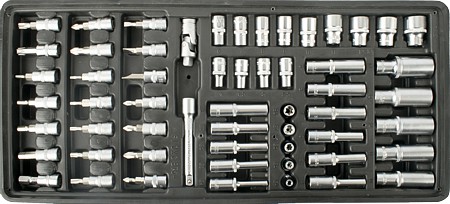 Insert for tool our tool cabinets. 1/3 drawer size, 57 pieces. The set consists of
¼ drive sockets. Covering a range of HEX normal sockets, TORX as well as
various favourite bits. Made of high quality chrome vanadium steel.
Manufactured in accordandance to DIN 3122, DIN 3123 and DIN 3124 standards
See the Specifications TAB for details.