Description
OLFA® Fiberglass-Reinforced Auto-Lock Utility Knife L-7 AL
Fiberglass-Reinforced Auto-Lock Utility Knife L-7 AL
with 5 free LBB blades
Blade Size: 18 mm
Cat no: L-7 AL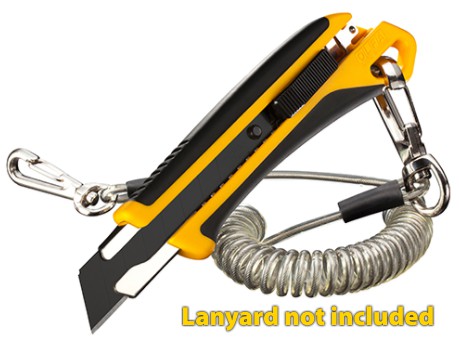 OLFA L7-AL – 18mm standard knife. The X Design Series is designed for
heavy loads. Comfortable and safe grip handle made of elastomer and reinforced
polypropylene material. Acid and acetone resistant. In the large opening at the
end of the grip, a safety neck strap can be attached.

The new 18mm blade section at the rear of the handle has a large hole
for securing the safety cable or lanyard – preventing the tool from falling or
becoming loose, compatible with various metal handles, such as the carbiner
type. The durable, two-component injection molded handle is made of an anti-slip
elastomer reinforced with polypropylene,
The cord (not included) does not interfere with the operation, nor in the replacement
of the blade. The hole allows for convenient hanging of the knife on the wall or
on the board with tools.



5x Spare LBB Blades included