Description
Olfa® Designer Art Knife Professional
Cat no: AK-4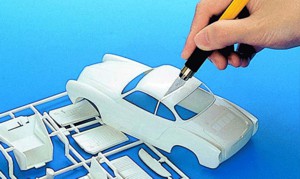 Precision art knife for professionals, part of the Comfort Grip series
featuring anti-slip cushion grip handles.
Comfort Grip handles provide premium comfort and are acetone resistant. The
perfectly balanced design for accuracy and stability combined with the anti-roll
device for convenience and safety.
Quick spin, easy blade change. Blade made from high quality carbon tool steel
is produced using OLFA's precise multi-step production process for unparalleled
sharpness and superior edge retention
Package includes 3 blades: precision blade KB4-S, chisel
blade KB4-F and curved carving blade KB4-R.
 Uses also narrow saw blade KB4-NS, wide saw blade KB4-WSand KB replacement
blades.
Good for: arts, graphics, crafts and hobby use. For both personal use as well as industrial applications
OLFA blades are extremely sharp. Handle with care. Wear safety goggles. Always
be alert and attentive when using a cutter or knife. Take the time to fully
learn the correct use and limitations of any cutter.
Never assume that you know how to properly use a knife. Store knives and blades
in a safe place. Keep out of reach of children !