Description
Rotary Cutter for Chenille Fabric
Cutter for creating chenille fabric.
Cat no: CHN-1
Blade: CHB-1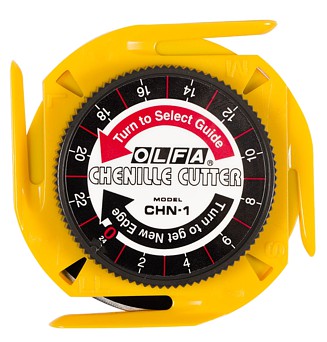 Making your own chenille fabric has never been easier! Designed for both right
and left handed use the revolutionary Chenille Cutter cuts multiple layers of fabric,
as well as paper, cardstock, photographs, felt, fleece, and more!
Features 4 channel guide sizes for narrow to wide widths and 24 new exposed blade
edges all with one click.
The ultra-sharp, double honed edge blade   is
never exposed for extra safety. No scissors needed! Uses only Chenille cutter replacement
blade CHB-1.
Good For: Creating your own chenille fabric, easily cut multiple layers of
fabric to add texture and dimension to any project.