Description
Easy to use 45° mat cutter
Cat no: MC-45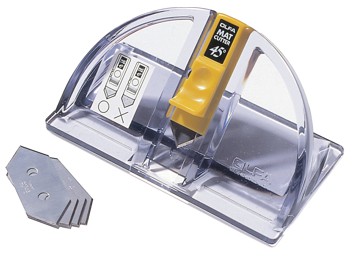 The OLFA Mat Cutter is a uniquely designed tool that takes all the work out
of cutting rectangular openings for picture and photograph framing. Perfect for
cutting picture frame mounts from matting board at 45 degrees oblique angle.
The "V" shaped blade MCB-1 slides easily to left or right
and the sharp blade allows the making of precise corners.
Not for use with OLFA cutting mats as the cutting base. Cardboard recommended
as a cutting base.