Description
Pony Pipe Clamp 3/4″ Original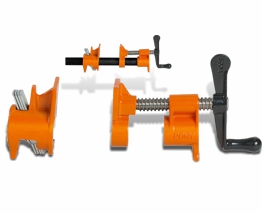 This widely popular clamp fixture is designed to be used on ordinary 3/4″ galvanised pipes with the flexibility of creating any clamping length. Easy to assemble. ideal for metalworking, woodworking and a wide range of applications from industrial to do-it-yourself type projects..
Features:
Orange and black baked enamel finish castings of malleable and ductile iron, Smooth 5/8″ Acme cut steel threaded screw for secure hold and final tightening, tail-stop with multiple-disc-clutch for fast easy adjustments while holding work securely
and a coil-spring stop. Pipes are not required to be threaded, simply clamp onto
the 3/4 inch pipe.