Description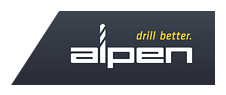 Diamond drill bit 12mm.
Alpen diamond drill bit for tiles. Water cooling is required.
Range
of application:
For extremely hard ceramic tiles, extremely hard roofing tiles, marble, granite, glass and porcelain. Suitable for any standard cordless drill thanks to its standardized shank profile. Not suitable for percussion drilling. Water cooling highly required.
For drilling into:
ceramic tiles
hard roofing tiles
marble
granite
glass
porcelain
Art-No. 00 290012001 00
Strengths
DIAMOND
water cooling is required
DEEPER
Up to Mohs or Ritz scoring hardness 8