Description
Olfa

Green

ES-1 (24 Pieces)
OLFA® Ergonomic Handle Auto-Lock Utility Knife Assortment
Made Of Recycled Materials
Cat no: ES-1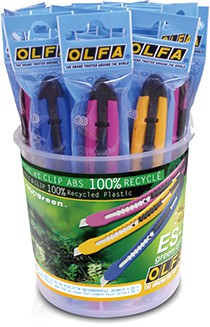 This OLFA® knife protects your hands with an auto-lock mechanism and protects
the environment with this eco-friendly knife. The handle and all plastic parts
made from 100% recycled materials. Use the utility knife to cut packaging,
shrink wrap and vinyl to window film, wallpaper, caulking, foam board and other
materials.
Bucket with 24 pieces of assorted colours
Good For: Applications such as paint, window film and
packaging. Cuts tape, shrink wrap, wallpaper, film, cardboard, caulking and
more.