Description
Olfa® Quilting Ruler 4½' x 4½'
Precise measurements and cutting
Cat no: QR-4S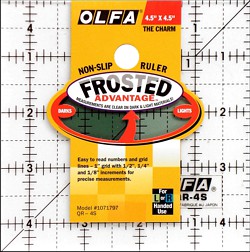 Non-Slip surface for stable and safe cutting. Frosted acrylic surface with
black numbers for clarity on light and dark colour fabrics. The ruler allows the
user to make precise measurements and cutting angles during sewing and quilting
applications. 4½' x 4½' Inch grid model. Accommodates both right- and
left-handed users.
Perfect for cutting and measuring accurate borders, patchwork, strips and
binding. For use with OLFA rotary cutters and mats.
Made in Japan